4 Retail Sales Training Techniques to Reinvent the Customer Experience
4 Retail Sales Training Techniques
to Reinvent the Customer Experience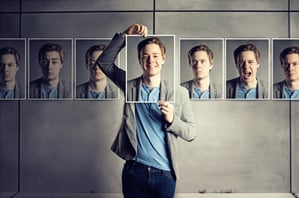 Retail salespeople are the public face of the company, the front lines of customer relations, and they define the company for everyone they encounter.
Their training determines how a retailer is viewed.
The limits of these instructional programs create a front line force that is poorly informed, inconsistent, and most importantly lacking in confidence.
That's why you see so many associates stacking merchandise and staying behind the counter-away from customers.
SEARCHING FOR SALES SOLUTIONS
For training to be effective, it must be part of an ongoing process of improvement. A once-and-done instruction period leaves plenty of time for salespeople to fall into bad habits on the sales floor. A training program that is coupled with performance monitoring can stop bad habits before they form or, worse yet, get passed on to other employees.
Professional athletes workout constantly under the guidance of experts and have their performance monitored. This isn't done to punish the athlete, it's done to promote their absolute best performance.
The same type of regimen can be applied to the sales training process, encouraging salespeople to apply the following techniques for reinventing the customer experience and increasing revenue.
When evaluating a sales program for your employees, you should make sure that the following techniques are employed and emphasized. While some customization may be necessary, the following four items will provide a rock-solid foundation for a high-quality learning experience.
Built upon these fundamentals, you can be sure that your salespeople are getting the information they need to succeed.
Proper retail sales training should include:
Building Rapport:
Disconnected sales associates will create customers who are connected…but to the internet. Most shoppers carry smartphones and can shop for better deals while standing on the sales floor. More and more mobile apps let customers scan barcodes to find better prices on merchandise. If salespeople aren't giving those customers a reason to make an in-store purchase, the customer is just a few thumb presses from making the purchase elsewhere…without having to leave the store. To avoid this, salespeople must engage with shoppers within fifteen seconds . They must be attentive and truly listen to the shopper's needs and concerns. Rapport building takes time and a willingness to listen. Once that rapport is built, trust naturally follows. Once a shopper trusts a salesperson, a great experience is born and loyalty is created. Most people can understand that concept, but the devil is in the details – your instruction has to tell your employees exactly how to accomplish that engagement rather than state, we value every guest.
Emphasize Value:
If a shopper can't see the value in a product, they'll be hard pressed to pay full price for it. They'll ask for discounts, wait for the item to be marked down, or buy it somewhere that sells it for less. Either way, your business ends up losing money, and perhaps, a loyal customer. Salespeople need to understand the importance of selling value over price. Having built a relationship with the shopper, the salesperson should know enough to begin connecting the customer to the item, not to its price.
Honesty is the Only Policy:
A false claim or exaggeration by a salesperson about a product they are unfamiliar with can be quickly found wrong in the time it takes to do a Google search on a smartphone. This could happen right in front of your salesperson, leading to embarrassment for your store and its staff. A properly schooled salesperson knows about their products and the value inherent in them. They know how to connect with customers first so they can convey the value of the products. If they're properly trained, they have no need to lie or exaggerate to close the sale.
Adding On:
Low per-ticket averages due to an abundance of single-item purchases points to a failure to upsell or cross-sell. If the salesperson has already put in the effort to build a rapport with the customer, that rapport should translate into additional purchases. Once again, this relates directly to the salesperson's ability to engage with the shopper and understand their needs. Knowing the value the product holds for the customer, the premium value, the salesperson should also use that information to sell additional items that will enhance the experience of the product for the customer. Proper instruction will teach them how to add value and raise the average number of items per customer.